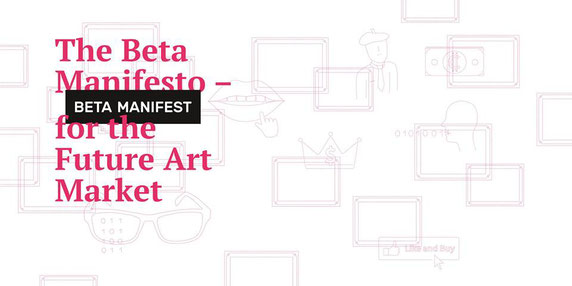 SALOON members Thea Dymke (BVDG) and Karoline Pfeiffer (Independent Collectors) organize:
Beta Manifesto for the Future Art Market
Donnerstag, 23. Juni 2016  at Deichtorhallen Hamburg 
In seinen Veranstaltungen hat sich der BVDG immer wieder unterschiedlichen Aspekten der Digitalisierung im Kunstmarkt gewidmet. Nach umfangreicher Recherche und zahlreichen Gesprächen haben wir in Zusammenarbeit mit den Independent Collectors nun das Beta Manifesto for the Future Art Market erarbeitet: Zehn Thesen widmen sich aktuellen digital dominierten Tendenzen auf dem Kunstmarkt, wagen einen Blick gen Zukunft – und bleiben gleichzeitig ewig unvollendet in digitaler Beta-Form.
---